View all posts
Avoid Scams Like A Pro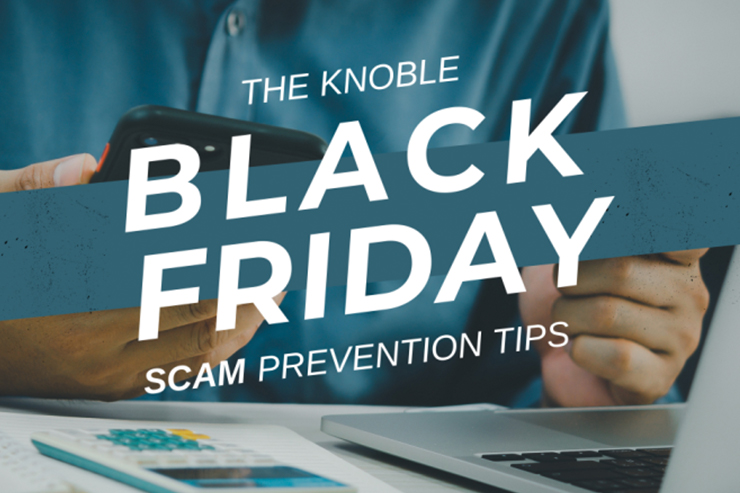 AVOID SCAMS LIKE A PRO
Originally posted by TheKnoble.com via Linkedin.
The temperature is dropping, the holiday lights are appearing, and people are getting busier. Accompanied by the busyness is distraction. This is where things can get dicey.
Exploiters have a recipe for taking advantage of people, and it's through vulnerabilities—whether there is a void or a desperate need—they feign that they can help. But, before you know it, the person on the receiving end can be tricked into trusting a bad (potentially dangerous) actor.
One of the circumstances that scammers infuse is urgency. This is added to the recipe, accompanied by an already distracted person. The fraudster stirs in confusion and misinformation—and creates a stomach-churning recipe for an upset. Stealing from someone's finances is a tremendous violation. In addition to causing financial stress, it can impact the victim's emotional and physical health. It is important to note that anyone can be a scam victim, especially when operating on overload, as many of us do during the holiday season. And fraudsters are getting more sophisticated with their techniques.
This time of year presents ripe opportunities for scam artists to infiltrate, even before the turkey leftovers are cold. It's like seamless clockwork—cue the bright lights, the festive music, the packed calendar—and, due to system overload with job and family stresses—the fraudsters find ways to infiltrate.
INFUSE SOLUTIONS
Fraud prevention tips: Avoid multitasking. Be the observer. Simplistic, yes. For more substance, please, keep scrolling.
Shop from trusted sources, a vendor you are familiar with—not one that a friend, of a friend's neighbor, recommended, but a pre-existing, reputable vendor. If you have good luck ordering gifts from Amazon, stick with them.
Be curious about text messages or emails claiming you're eligible for a refund for an item you never purchased so thieves can get your credit card information.
Research the charity pulling at your heartstrings—search for their 990 (tax-exempt organizations must file this with the IRS) to ensure they are legitimate.
Avoid phishing schemes, where the goal is for the scammer to get ahold of your personal information, such as your credit card number, social security number, or account password.
Be aware of who is asking you to verify your personal information. When your spidey senses are firing, don't engage with emails or phone calls requesting personal information. Be proactive and contact the company's help desk to verify the request.
Some bad actors go as far as having the same wait time or on-hold music as your bank. This is both elaborate and deliberate.
Pro tip: For safety, you can enlarge your screen to see clearly or get out your cheaters to level up your investigative tactics. A sender's email address may contain extra characters or misspellings that deviate ever-so-slightly from a vendor you may have recently used to make a purchase.
SCAMS CIRCULATING THIS SEASON
Bait and Switch
Online and in-store scammers work to lure you in with fancy items. They may dangle a carrot and persuade you to enter a drawing for a new smartphone, and to become a winner, they ask you to provide personal details. This can also happen via a survey. Don't take the bait.
Brick-and-mortar stores advertise door-buster deals. If they conveniently run out of the item, they may console you by offering what's behind door number two. Usually, an item that is not as enticing as the one you drove to the store to purchase. The moral here—adjust your expectations accordingly and don't settle.
Suspicious Links
Exercise caution with links within emails, text messages, and or online ads. One way to verify legitimacy is to check the sender's contact information. Verify whether the sender's email address or phone number matches precisely with the company they claim to represent.
Browser Extension
Avoid installing money-saving browser extensions during the holiday season. Some are legitimate, but scammers have developed others for phishing data. Go directly to the company's website for the most legitimate Black Friday savings.
Billing Scams
Be wary of the urgency plea, mainly when you receive a message claiming to be a company that claims you made a purchase and states: A) your payment was not accepted and B) you need to update your personal information. The "vendor" may tout that you will miss out on the deal if you don't relay the info now. (Playing the urgency card.) If you are faced with a message like this, it's best to contact the company directly to ensure that you aren't sending your private information to an external source.
Verification Code Scams
If someone requests a verification code from you, cease communication and report the incident to the Federal Trade Commission. Fraudsters use this scam to get two-factor authentication put in place to "protect your data." They may pose as your bank or a company you've recently purchased from, claiming that you must confirm a verification code to finalize a transaction. These scammers will often already have your password and username, but with the verification, they will be able to access more of your data.
Always a good reminder, especially for the seniors in our lives, to not enter personal details on a site you don't trust. Suppose you allow politeness to take over when interacting with a customer service agent; save that for your restaurant waitstaff. It's better to be abrupt to a potential scammer than to override your initial gut response. Play defense.
Just as your trustworthy IT colleague will remind you: "Don't click the link"—this advice reigns true, especially during the holiday season, when we see an increase in consumer purchases. Keep this in mind when presented with the oh-so-amazing deal—if it looks too good to be true, it may be a scam.
Stay safe. Join us in the fight at TheKnoble.com.