Their financial journey starts with a CUNA Diamond Award winning youth account
Learn. Earn. Grow.
Benefits You'll Love:
Access to free, fun, interactive education
Monthly drawings to encourage savings
Receive a small gift with every in-branch deposit
Earn higher quarterly dividends
IFCU'S Youth Accounts were Awarded a 2023 Diamond Award!
CUNA Diamond Awards highlight outstanding marketing and business development achievements in the credit union industry from all over the country.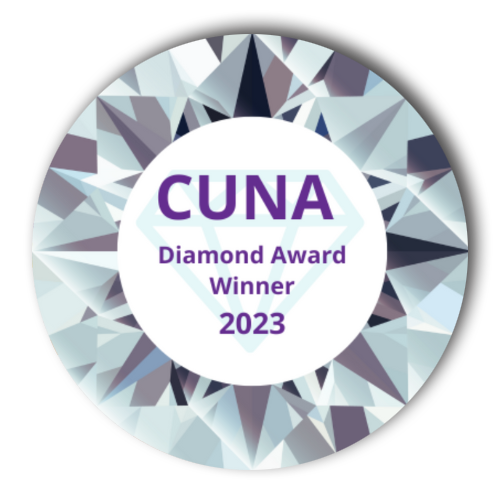 Kick-start your child's financial journey with a high-yield Savings Account. Let them watch their money grow, have them set goals and learn first-hand banking experience with fun interactive education resources, and more!
Available for ages up to 17
Establishes their membership with IFCU
Earn competitive, tiered dividends on entire balance
No monthly fees
No minimum balance requirements
Access plenty of exclusive perks:

Receive a sweet gift upon account opening
Get another small gift with every in-branch deposit
Printed member card
Savings tracker and activity book
Quarterly mailed Youth Newsletter
Free coin machine access
Access to free, fun interactive financial education resources and more

Free digital banking services, including:

Free online banking & bill pay
Free mobile banking
Free eStatements

$5 minimum deposit to open
Make saving even more fun with monthly prizes!
Set goals for their savings and get them entered into our monthly prize drawing. The number of times they are entered each month depends on the balance in their savings account at the end of each month
$5 - $99 balance = 1 entry
$100 - $249 balance = 2 entries
$250 - $499 balance =3 entries
$500 - $999 balance = 4 entries
$1,000 and greater balance = 5 entries
The best lessons are taught outside of class. Put your teen on the path to financial independence with a CUNA Diamond Award winning youth account.
Ready to get started?
With your child, stop by any IFCU Member Center location with the following:
A deposit of $5 into a Youth Savings Account to become an IFCU member, giving them access to all the benefits of membership!
Parent or guardian valid government-issued photo ID
Child's Social Security Card
Legal guardianship documents (if applicable)
Parent / legal guardian membership (Parent or legal guardian must be an IFCU member or become a member first)