View all posts
How To Save For Your House Down Payment In 5 Years (Or Less)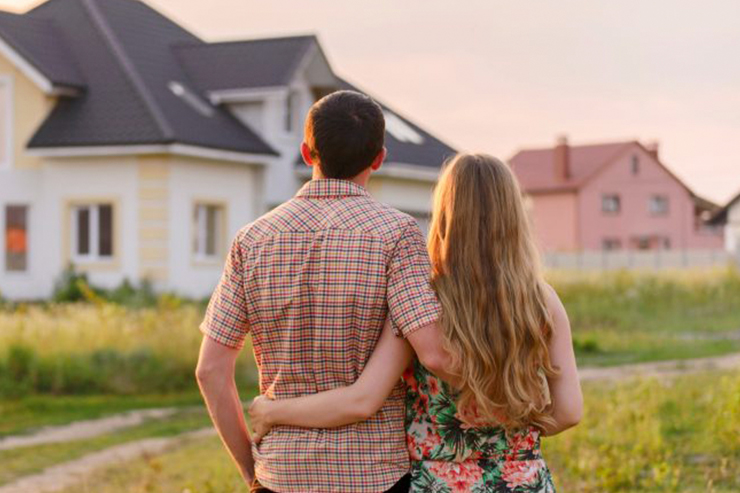 HOW TO SAVE FOR YOUR HOUSE DOWN PAYMENT IN 5 YEARS (OR LESS)
LEARN HOW TO GROW YOUR HOME SAVINGS EVERY MONTH.
One of the biggest hurdles to buying a home can be saving enough money for a down payment— especially if your goal is to save 20% of the price of the home. Paying 20% down can benefit a homebuyer in multiple ways, such as reducing the mortgage loan interest rate, lowering the cost of monthly mortgage payments and eliminating the need for private mortgage insurance (PMI).
Understandably, many factors can determine how quickly you can set aside enough to make a down payment on a house. Nevertheless, there are several steps you can take to help reach your savings goal sooner than later.
Please note, there are many mortgage loan options available, with down payment requirements varying based on the type of mortgage loan. A mortgage specialist can offer personalized support on your home buying journey.
MONTH 1: FAMILIARIZE YOURSELF WITH THE HOUSING MARKET IN YOUR AREA
Before you will know how much you need to save for a down payment, you need to know what kind of house you want. For example, make a list of your must-haves and a wish list for your new home. It could be a certain neighborhood, certain school district or proximity to work, a specific number of bedrooms or a yard where your pets or kids can play.
Next, research home prices for local home listings online that meet your criteria. You may use resources like realtor.com or Zillow. You might discover that you need to adjust your expectations. Keep in mind, the housing market may change over the years as you save for a down payment. With that said, as time passes, your criteria and must-haves may change as well. It would be advisable to check back yearly on home prices that match your new criteria. Most importantly, you do not want to work hard to save only to discover when you're ready to buy that you can't afford even the most modest home, or, the opposite, that you didn't need to scrimp quite so much to come up with a down payment.
MONTH 2: FIGURE OUT HOW MUCH HOUSE YOU CAN AFFORD
Once you get a feel for the housing market in your area and are ready to start saving, figure out how much house you can afford. To do that, calculate how much of a monthly mortgage paymentmonthly mortgage payment you could handle on your own or with a significant other.
You can use an online mortgage calculator, which will require you to enter a home price and down payment amount. These can be estimates based on the housing market research you did in month one, but you'll get an idea of what your mortgage payment will be depending on the home price and how much you put down. Keep in mind when calculating a mortgage payment; you will also need to factor in home insurance, property taxes and PMI (if you do not put down 20%). Once you know what a responsible price tag is for your future home, you can create a savings goal for a down payment, plus closing costs, moving expenses and furnishings.
MONTH 3: SET A SAVINGS GOAL
When you have an idea of how much house you can buy based on the monthly mortgage you can afford, you can set a down payment savings goal. Start with the total amount you want to save then divide it by the number of months over which you plan to save to figure out how much you will need to set aside each month.
For example, a home listed at $150,000:
To save 10% of the down payment, or $15,000, you would need to put aside $250.00 per month for the next five years. Please keep in mind, the actual sales price of the home you want to buy at this moment may change, which would change the amount you would need to save.
To save 20% of the down payment, or $30,000, you would need to put aside $500.00 per month for the next five years. Please keep in mind, the actual sales price of the home you want to buy at this moment may change, which would change the amount you would need to save.
MONTH 4: CREATE A BUDGET
A great rule of thumb is to create a monthly budget. By tracking your spending, you will know exactly where your money is going. This allows you to make adjustments where needed month after month, while giving you a big picture of your spending habits. You can use a simple budgeting tool to help get you started.
A budgeting tool will help you know exactly what expenses you have and how much money you can save towards your future home.
MONTH 5: TREAT DOWN PAYMENT SAVINGS LIKE A MONTHLY BILL
Creating a budget and tracking your spending can help you reach your savings goal. Actually setting aside money can take discipline. That is why we recommend treating your house savings goal like it's a bill. Set up an automatic monthly transfer from your checking account to a high-yield savings account. You might be able to have a portion of your paycheck deposited into a savings account. Then the money will come out before you have a chance to spend it.
MONTH 6: REDUCE YOUR CURRENT HOUSING COSTS
To create more room in your budget to save for a down payment, you might need to reduce your current housing costs. Depending on your personal circumstance, you may be able to share a house or apartment with friends. Maybe you have an option of moving back in with your parents to save money so that you may buy a house.
If you can reduce your housing costs by getting a roommate, moving back home or moving to a place with cheaper rent, add that extra cash to your automatic monthly transfer to savings.
MONTH 7: KEEP SPENDING TO A MINIMUM
You'll be amazed how much you can actually save when you are committed to keeping your expenses low. By all means, don't eliminate all non-essential spending from your budget. Just make sure to create a discretionary spending category in your budget so you have money to cover outings or the occasional trip to the store to buy clothes without shortchanging your savings.
MONTH 8: CREATE A PLAN TO PAY DOWN YOUR EXISTING DEBT
Focus on paying off current loan debt. Without monthly debt payments, you will able to set aside more for a home. By making a larger down payment, you will reduce your mortgage payments, making a more affordable payment. In addition, if you can manage 20%, it would help you avoid the additional cost of private mortgage insurance, which lenders require homebuyers to get if they make a down payment of less than 20 percent.
MONTH 9: BOOST YOUR INCOME TO BUILD SAVINGS
You can only cut expenses so much. That is why it may be important to focus on boosting your income to save enough for a down payment. You could ask your employer for more hours, negotiate a raise or search for a higher paying job. If you receive a tax refund each year - place it in your savings fund.
MONTH 10: FIND SIDE HUSTLES
You also can boost your income by finding creative ways to make extra cash. Side-hustle your way to your down payment. You could set up an eBay store, be an Uber or Lyft driver on nights or weekends, online grocery shopper, or do odd jobs.
Maybe find a part-time or seasonal job — In addition to your full-time income, you could possibly earn $5,000 to $10,000 extra a year. Maybe more!
MONTH 11: RESEARCH LOW DOWN PAYMENT LOANS
If you have cut costs and boosted your income but still won't be able to save enough for a 20% down payment, look into loans that require a smaller down payment. There are several mortgage loan options available with smaller down payment requirements. Even though that means you will pay PMI until you've paid off 20% of the principle of your house, sometimes it's worth it to just get in the market before prices go up.
The average down payment was 8% of the median home sales price in 2021, according to real estate data provider ATTOM Data Solutions. With an FHA loan issued by a lender approved by the Federal Housing Administration, homebuyers only need to make a 3.5% down payment.
Using the $150,000 home that was referenced earlier, a 3.5% down payment of $5,250 would be much more affordable, and you might be able to reach your savings goal more quickly. You could save that amount in one year by putting aside $437.50 per month or in five years by saving only $87.50 each month.
Taking out a conventional loan with a minimum of a 5% down payment may be a great option for you as well. Using that same $150,000 home with a 5% down payment of $7,500, will place you at a savings goal of $125.00 a month for five years, or $208.33 a month for three years.
As you can see, there are many mortgage loan options available. A mortgage specialist can offer personalized support on your home buying journey.
MONTH 12: KEEP YOURSELF MOTIVATED TO SAVE
If it takes several years to save enough for a down payment, you might need to come up with ways to keep yourself motivated to reach your goal. Keep telling yourself that if you keep it up a little longer, you will be able to move into your own place and be working toward building equity rather than wasting money on rent.
Make a list of the benefits of being a homeowner or print out a picture of a home you want. Post your list or picture somewhere you can see it so you will be reminded why you're working hard to save. I hope that will help keep you on track to reach your goal as you continue to implement these month-by-month steps over the years as you save.
If you have made it through a year of saving and still haven't reached your goal, repeat the process and look for ways to improve until you do.