View all posts
14 Ways To Save Money Each Month Without Depriving Yourself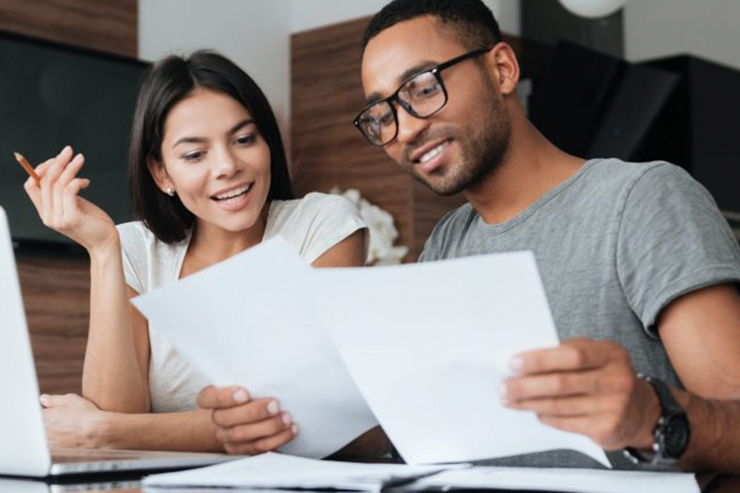 14 WAYS TO SAVE MONEY EACH MONTH WITHOUT DEPRIVING YOURSELF
Worry that you can't save money every month without cutting out the good things? It's possible to stash away more cash monthly and still experience the activities and events you enjoy. With our 14 tips, you'll be able to put more in savings.
Many experts recommend having at least $1,000 set aside for emergencies. According to a nationwide poll conducted by Bankrate, fewer than 4 in 10 Americans have enough money set aside to cover an unexpected $1,000 expense, such as a trip to the ER or car repairs, according to a new survey.1 Luckily, it's never too late to start — and you don't have to decimate your "fun budget" to fill your savings.
Instead of trying to cram a new savings plan into your existing routine, cut down on regular monthly expenses. This way, you'll be able to add a set amount of money to your savings account or funds manager every month without feeling the pinch. To help you get started, we've compiled 15 simple ways to save money monthly:
1. REFINANCE YOUR CAR OR TRUCK.
Maybe your credit has improved, or rates have gone down since you bought your ride. If you have an existing car loan, contact your creditor or financial institution to see if they can refinance at a lower rate. You'll potentially save money each month on your payments.
Tip: With a IFCU auto refi, you could save 2%* or more on your current auto loan rate.2
2. REFINANCE YOUR MORTGAGE.
With rates still near historic lows, it's a good time to ask your credit union about refinancing your existing mortgage. While there are no guarantees, if you're able to snag desirable terms and/or a lower interest rate, you could potentially save hundreds, thousands or even tens of thousands over the life of your loan!
3. CUT YOUR SUBSCRIPTIONS.
We get it, you need your digital subscriptions to stay sane. But do you really need Netflix and Hulu and Disney + and HBO Max and Spotify and Vudu and … well, you get the picture. Whittle down the subscription avalanche to a manageable bump and you'll save cash every month.
Tip: Did you know that you can earn 3x the points on streaming services with our Visa® Select Rewards Credit Card?4
4. DITCH CABLE OR SATELLITE TV.
Still springing for a cable plan with all the bells and whistles? Have a satellite (TV) hanging over your head? There's no need for expensive cable when you have one of the subscription services that includes broadcast and cable shows (see #3, but don't go overboard).
5. AUTOMATE YOUR SAVINGS.
If you leave saving money for last, you're liable to spend your whole paycheck before you save a dime. Instead, set up your direct deposit so a portion of your paycheck goes straight into savings. That way, you won't "accidentally" use your savings money for new cookware, a robot vacuum or a MasterClass with Gordon Ramsay.
6. TRIM YOUR PHONE PLAN OR LOOK FOR DISCOUNTS.
In today's world, you need a phone to connect. But do you really need the latest iPhone with unlimited everything? See if you can pare your phone services down by scrapping the unlimited calling, bundling family plans together or checking into credit union phone discounts. Even if you only save $10-15 a month, that's still up to $150 bucks a year you can add to your savings account.
Tip: Did you know that you get exclusive discounts on cell phones and service just for being an Industrial Federal Credit Union member? Check out your discounts, and see how much you might save.
7. MAXIMIZE YOUR CREDIT CARD REWARDS.
If your credit card offers rewards, like our Visa® Platinum Rewards Card or our Visa® Select Rewards Card, you can use your card to pay monthly bills so you can earn points, then pay off the balances. Trade your earned points in for extra cash or use them to purchase gift cards so you can cut down on your monthly grocery expenses.
8. DINE AT HOME.
The average American household spent over $3,000 a year dining at restaurants and fast food places.3 We're not saying you should make every meal at home. But if the average family cut their restaurant dining in half, they could potentially save $1,500 a year. That's a lot of dough!
Tip: Did you know that you can earn 2x the points on restaurant dining and food delivery with our Visa® Select Rewards Credit Card?4
9. DOWNLOAD A COUPON APP.
Clipping coupons is so 1990s, but the idea of saving money on everyday purchases is evergreen. Save cash by downloading apps with in-app coupons from your local grocery retailer. You'll typically get the same deals as you would with a print flyer or newspaper coupon — with zero risk of paper cuts!
10. CHANGE YOUR INSURANCE.
Insurance is something you don't really use until you need it. Because it's not top-of-mind, you might be paying more than you should for auto, life, renter's, home or other insurance coverage.
Tip: Did you know that you get insurance discounts for being an Industrial Federal Credit Union member? Simply request an insurance quote online and see how much you might save.
11. TURN OFF ONE-CLICK ORDERING.
We know it's a convenient time-saver, but it's also a serious threat to your wallet. When retailers like Amazon offer you the opportunity to add a credit or debit card to your account and turn on one-click ordering, it's all too easy to start spending. Automatic pet feeder? Click. A new wallet? Click. Three tops, 600-thread count sheets, an instant camera, two PlayStation games and five toys for your kid? Yeah … also one click. That's why turning off one-click is a smart move if you're prone to overspending.
12. CHANGE YOUR THERMOSTAT SETTING.
You can save money on your heating and cooling bills by simply resetting your thermostat at night and when you are away from home. According to the U.S. Department of Energy, "you can save as much as 10 percent per year on heating and cooling by simply turning your thermostat back seven to 10° for eight hours a day from its normal setting."
13. SCRAP YOUR MORNING ROUTINE.
We're pretty sure [insert any self-made millionaire's name here] didn't get rich eating $10 avocado toast and drinking $6 lattes every morning. Sorry, but if you want to stash some green, the daily Starbucks run must go. If you really need an early a.m. pick-me-up, keep your fridge and cupboard stocked with the items you need to get your caffeine fix and your hunger sated before work.
14. DO YOUR OWN HOMEWORK.
In-home services like cleaning, maintenance and lawn care are convenient time-savers, but they come at a price. And that price tag can equal hundreds of dollars spent every month. If you're keen on saving more, take the time to do the cleaning and routine maintenance yourself. Think of it as a natural workout that pays you back.
Saving money doesn't have to be a chore. By following one or more of the steps above, you'll be able to save money each month without even missing it. No need to cut out hobbies you enjoy or places you like to visit. By trimming down the essentials, you can have the best of both worlds — a steadily growing savings account and a rich, full life!
1https://www.cbsnews.com/news/financial-emergency-savings-americans-cover/

2*Annual Percentage Rate (APR). This promotion applies to loans for refinances from other institutions on new or used vehicles (2014 and newer) up to 60 months and (2017 and newer) up to 72 months with certain mileage restrictions. Existing loans with IFCU do not qualify for this promotion. All loans are subject to approval and individual rates may vary based on your credit score, terms, and underwriting conditions. Loan rates will not go below 1.99%. for rates up to 36 months, 2.74% for 37-60 months and 2.99% for 61-72 months. Example payment: Borrow $18,000 for $273.41 a month for 72 months. Certain restrictions may apply. We may offer other terms and conditions connected with this offer. All Credit Union loan programs, rates, terms and conditions are subject to change at any time without notice. Call us at 765-771-8000 option 1 to talk to a consumer loan specialist for current rates, terms and conditions.

3https://www.moneyunder30.com/the-true-cost-of-eating-in-restaurants-and-how-to-save#

43X Points on streaming services are available until June 30, 2021. Earn 2x points on restaurant dining and food delivery all year.